SUNDAY – 9:00AM BIBLE CLASSES. 10:30AM WORSHIP SERVICE. SATURDAY – 5:00PM WORSHIP SERVICE.
THE LUTHERAN WOMEN'S MISSIONARY LEAGUE (LWML) OF FIRST GOOD SHEPHERD LUTHERAN CHURCH
LWML is an international organization. Every other year a national convention is held. The next one will be in Milwaukee, Wisconsin, in June of 2023. The national website is: lwml.org. On the years opposite the national convention, a district convention is held. Our district is the Pacific Southwest District (Southern California, Southern Nevada, and all of Arizona), and this year's convention is in Tempe, Arizona, June 3-5. The district website is: http://www.psdlwml.org. FGS' LWML is also part of a smaller zone group. Our zone includes Southern Nevada, Southern Utah, and Bullhead City, Arizona. There are two zone meetings per year. One in the spring and one in the fall.
The LWML hosted the families of the Confirmation class of 2022 for breakfast in the Church.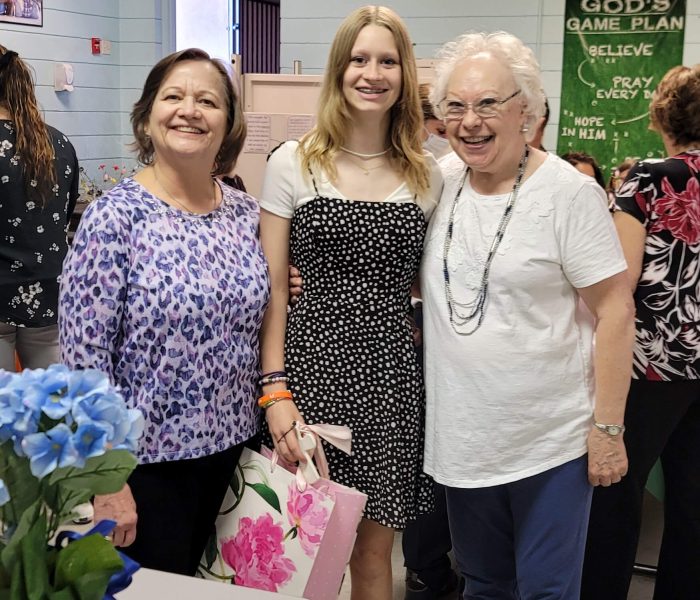 VP of Christian Life Report - Linda Olson
Celebrate the Lord of the Nations, Milwaukee, Wisconsin
Next time you are in church singing a hymn, try to imagine 4000 voices joining you. As you are making your confession, taking communion and reciting the Lord's Prayer, imagine all those voices as well. This was my experience at the Thursday night opening service of the LWML 40th Biennial Convention on June 22. Hearing those voices in unison was awe inspiring. God was truly in that place.
PACIFIC SOUTHWEST CONVENTION IN TEMPE, AZ, JUNE 3-5
Four members of the First Good Shepherd LWML and Pastor B are off to the 39th Biennial Pacific Southwest District Convention. We are excited to hear the speakers; Jan Struck and Donna Snow lead us through the theme of this year's convention - Treasured! Look for updates and pictures coming soon.
FGS LWML meetings are held the third Monday of the month in September through May. Each meeting starts with fellowship including a snack, includes a brief business meeting, and has one of five activities. Three times a year we have Bible Studies. Three times a year we have Guest Speakers. There is a Christmas Dinner/Party, an annual planning meeting in September, and a craft meeting in March. In addition to the meetings, there is a LWML Night Out dinner in June.


The Lutheran Women's Missionary League is the official women's auxiliary of The Lutheran Church—Missouri Synod (LCMS).
It has as its "mission heart" thousands of volunteers who are daily dedicating their lives to making a difference in this world.
"Lutheran Women in Mission" describes in spoken and written form who we are and what we do.
It is women who are finding avenues to use their God-given talents as they meet the challenges to share the Gospel message.
It is composed of individual women and women's groups within congregations of The Lutheran Church—Missouri Synod, on campuses, in resident homes, or in other settings.
Women who have an interest in the mission and ministry of the LWML – and wish to be a part of the organization may ask the local LWML Society of First Good Shepherd Lutheran Church.
The LWML seeks to develop and maintain a greater mission consciousness among women of the LCMS through education, inspiration, and service.
A major emphasis is the support of mission and ministry throughout the world by means of mite box offerings. These mite box offerings have funded tens of millions of dollars in mission grants since the organization's inception in 1942.